Mixed-Age Outdoor Kindergarten for Ages 3 1/2–6*
September–June
Juniper Jungle Learning Farm
Two and four day options available!

Wildheart Kindergarten offers experiential outdoor learning in a small group, directed by a certified and experienced Waldorf Teacher.
Our mission is to support the child's curiosity and inner resilience, while guiding their connection to nature, community, and environmental stewardship.
What is Wildheart Kindergarten?
Wildheart Kindergarten is a unique mixed-age outdoor school serving children ages three to six. We foster holistic child development directly from a natural world classroom that includes a waterproof shelter and access to a bathroom. Through our experiential and emergent learning model, open-ended exploration leads to informative reflection. Child-led interests are always mirrored in the framework of daily lessons. We learn and play amongst wild-growth meadows, woodland trails, a meandering stream, and farm animals. Teacher observation of the child's wonder becomes a living scaffolding for learning opportunities. Lessons meet individual strengths, while guiding the child toward specific developmental goals. Our living curriculum engages the whole child in a deeply-connected learning process. From this connection with nature, the child's innate capacities emerge.
Children will come away with foundations in:
1. Gardening and Permaculture

Children are immersed in the rhythm of life by planning, cultivating and harvesting the complete cycle of a garden. From putting down mulch and planting seeds to nurturing and harvesting the crop, children engage with their food, even as they observe the garden's eventual decay.
2. Literacy
The remarkable designs of nature prompt exploration and lead to the discovery of letters rather than a traditional and linear memorization approach to literacy. Phonetic and visual letter attributes become connected with an object from nature and paired sensory experiences reinforce both learning and the appreciation of nature.
3. Music
We celebrate music with natural instruments we create on the farm, handmade instruments from our teachers, and novel instruments from around the world (such as didgeridoos and hang drums).
4. Problem Solving
Outdoor experiences promote more advanced problem-solving skills, less stress, and enhanced creativity, according to the articles in "Children and Nature: Psychological, Sociocultural, and Evolutionary Investigations," edited by Peter Kahn and Stephen Kellert. Wildheart Kindergarteners learn how to solve challenges in a fun way by collecting the most effective sticks for a fire, discovering primitive crafts, building shelters, and interacting in a community, and more.
5. Concentration, Interpersonal Skills, and Emotional Regulation
The flow of our day mirrors the natural rhythm of the breath. We balance the in-breath of togetherness and focus with the out-breath of free play, solitude, and rest. According to the same study mentioned above, children who spend time in nature experience higher levels of mental, emotional, and physical health, better concentration, greater interpersonal skills, and increased self-discipline.
6. Stewardship
Our farm location provides children with a perfect hands-on opportunity to embody stewardship. Children enact farm chores such as feeding and caring for the animals. In addition, children become mindful of waste and trash, and observe their impact on the world around them.
7. Imaginative Play

Nature, open-ended toys, and prompts stimulate the children's imagination. We allot children plenty of opportunity for expansive play to unfold. Learning and playing in nature are intertwined at Wildheart Kindergarten to create a joyous entree into their world.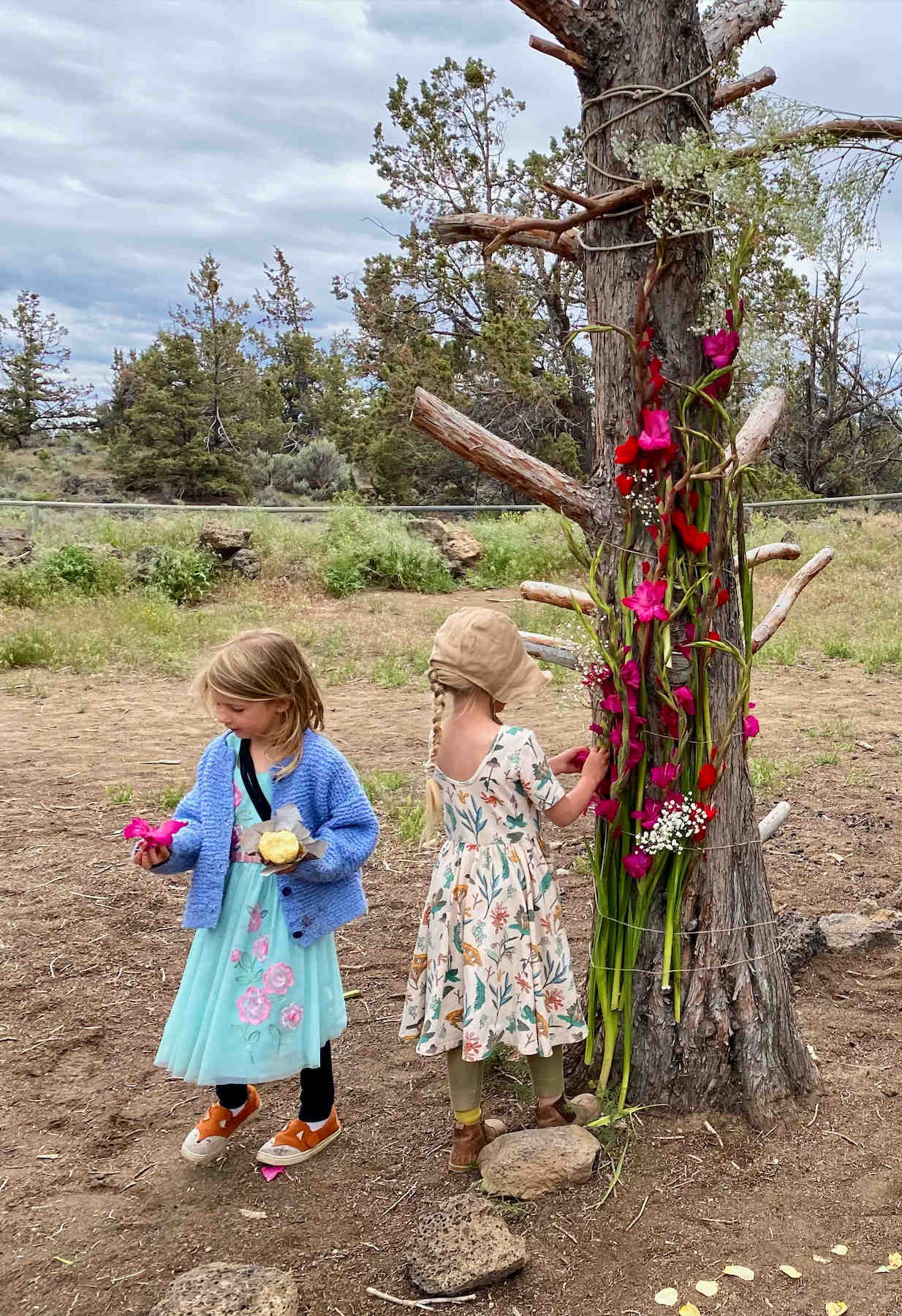 Students will explore:

– Watercolor painting
– Beeswax modeling
– Letter learning
– Music
– Storytelling
– Wild-crafting edible and medicinal plants
– Food preservation
– Wool handwork
– Journaling
– Book binding
– Mindfulness and sensory awareness
– Fantasy themed activities such as faerie house creation and magical scavenger hunts
– Cob natural building
– Farm animal tending
"Prior to Wildheart my daughter had never been in a school or large social setting of any kind. Naturally of a quieter and reserved natured, we knew we needed a program that would foster her gentle spirit and specific needs. Although it was a large change for us all, especially our daughter, we felt comforted knowing the teachers at Wildheart would warmly embrace her into their unique and loving community. The outdoor component, the waldorf approach in addition to the other like minded parents, all helped to create just what our daughter needed. She is almost a year completed and she has bloomed into a more vibrant version of herself. She comes home with windblown hair, singing songs and telling stories of her day. Is Wildheart a regular school? Most definitely not, it is like none other and we are so blessed to have come across it at this needed time in our lives."
Daily Rhythm
9:30 AM Arrival and Tea
10:00 AM Morning Nature Hike

10:30 AM Wash Up and Snack
11:00 AM Inspired Activity

Example Activities:
Tuesday: Letter Learning and Journaling
Wednesday: Gardening
Thursday: Shelter and Campfire Building

11:00 PM Imaginative Free Play

12:30 PM Wash Up and Lunch

1:00 PM Art in Activity
1:30 PM Story Time and Pick Up

Artistic activities follow the cycle of the seasons, with circle time and storytelling reflecting the same. Herb Harvest Hike is a daily peek into the skill of wildcrafted herbal tea-making. Imaginative freeplay is supervised exploration of fort building, hay bale and mud kitchen baking, sand and stick art, animal home tracking and class adventures on the whim of curiosity. Lunch and Snack are brought from home. Restful time is not a nap time, but a quiet in-breath to find calm while listening to a story. Art lessons will range in mediums and will be bound into a handmade book of artwork by each child.
Juniper Jungle Learning Farm

Juniper Jungle Learning Farm (Ages 3 1/2 – 6)
22135 Erickson Rd. Bend, OR 97701
Welcome! Juniper Jungle Learning Farm is a classroom, a discovery center, a place to grow, a place to gather. The mission of this family farm is to engage children and adults in learning about farming, food systems, and their importance to our community.
Margaret Persaud
Lead Teacher at Juniper Jungle Learning Farm

A New York native, Margaret has worked closely with children and parents for over a decade in the classroom, at home and in summer camps. She began her undergraduate studies majoring in Early Childhood Education. Becoming discouraged with the current model of education, she left school in search of a more holistic approach. While living in Sedona, Arizona, she discovered Maria Montessori and Rudolph Steiner's alternative pedagogies of instruction. It was then that she started to structure her philosophy of education around the physical, academic, social-emotional, and spiritual needs of the child. She believes that an integration of these practices will nurture children to be uniquely themselves while creating a strong sense of social responsibility and accountability for caring for our planet.
Margaret received her Bachelor's degree in Sociology with a minor in Early Childhood Education from Long Island University. She studied at the West Side Montessori School receiving her American Montessori Society certification for children ages three to six. It was there that she became involved as a Diversity Council representative, a SEED (Seeking Equity in Education and Diversity) member and Peace advocate. Margaret has worked with schools to provide Social-Emotional Learning workshops focusing on non-violent communication, kindness curriculum, and mind-body-wellness practices for educators and children alike. She believes that the transformation of self is the key to transforming our relationships and our community. The collective well-being can only be addressed as deeply and authentically as we show up to meet ourselves.
Margaret and her daughter Grace enjoy cooking, yoga, dance, art, meditation, camping and soaking in hot springs. Margaret is certified in Heartsaver First Aid CPR AED by the American Heart Association.
Gwen LaFond

Juniper Jungle Learning Farm Owner and Co-Teacher

Gwen is the owner and co-teacher at our Juniper Jungle Learning Farm location. She has a Master's Degree in Early Childood Education and ran a Tinkergarten program for many years. Gwen is passionate about engaging the elements of the farm such as the animals, the plants, and the garden.
Gwen is certified in Heartsaver First Aid CPR AED by the American Heart Association.
FALL 2022–SPRING 2023 JUPIPER JUNGLE
CLASS SCHEDULE
FIRST SEMESTER
Tuesday, September 20th, 2022–Friday, December 16th, 2022
12 weeks
9:30am–1:30pm Tuesday–Fridays
Lead Teacher: Margaret Persaud
Parent Teacher Conferences, November 1st-2nd (No School)
Veterans Day Thursday, November 11th (School is in Session)
Thanksgiving Break November 22nd–25th (No School)
SECOND SEMESTER

Tuesday, January 10th, 2023–Friday, June 2nd, 2023
19 weeks
9:30am–1:30pm Tuesday–Fridays
Lead Teacher: Margaret Persaud
Teacher Development February 21st-24th/Presidents Day February 20th (No School)
Spring Break March 28th- 31st (No School)
May Faire Celebration Friday, May 5th (Special Family Event)
Flyaway Graduation Friday, June 2nd (Family Event)
FOUR DAYS PER WEEK FEES
FIRST SEMESTER
Pay in Full: $2,827*
Payment Plan: Pay a $400 non-refundable deposit upon registering and then plan to make monthly payments September–December of $607*
SECOND SEMESTER
Pay in Full: $4,474*
Monthly Payments: Pay a $400 non-refundable deposit upon registering and then plan to make monthly payments January–June of $679*
TWO DAYS PER WEEK FEES
Pay in Full for Entire Year: $3,651.00
Monthly Payments: Pay a $400 non-refundable deposit upon registering and then plan to make monthly payments September-May of $361*

*There is a 4% discount for signing up for both semesters and an additional 4% discount for siblings who sign up together.
"Wildheart Kindergarten has been an incredible place for our son to learn and grow this fall. Miss Tess creates a nurturing environment where every kid feels safe to be themselves. They have opportunities to practice both independence and teamwork, leadership and cooperation, all while learning about the natural world and our place in it. Our son has blossomed as part of this caring group."
*Children must be below ages 6 to sign up but may turn 6 during the school year. Juniper Jungle Learning Farm accepts kids starting at age 3 1/2 and Twin Acres accepts kids starting at age 3.
Tess Vining
Kindergarten Director
tess@wildheartnatureschool.com

Inspired by the holistic approach to education in Waldorf pedagogy, Miss Tess completed a two-year intensive teacher training at Waldorf Teacher Education in Eugene, Oregon, and began working as an Aftercare Teacher at Corvallis Waldorf School, before becoming Director of Early Childhood at CWS. The incredible community of the Waldorf School of Bend brought Miss Tess to Bend in 2016, where she assisted in early childhood and grades classes before leading the Huckleberry Preschool.  During summers, her son attended Wildheart Nature School camps and learned environmental stewardship and the virtues of being a reliable, resilient and loving friend in a greater community.  Integrating the values of Wildheart nature education and Waldorf, the Wildheart KinderCamp was formed to serve Kindergarten-aged children. When not teaching on the farm, Miss Tess is playing in the PNW mountains with her family and friends. Miss Tess is certified in Heartsaver First Aid CPR AED by the American Heart Association.