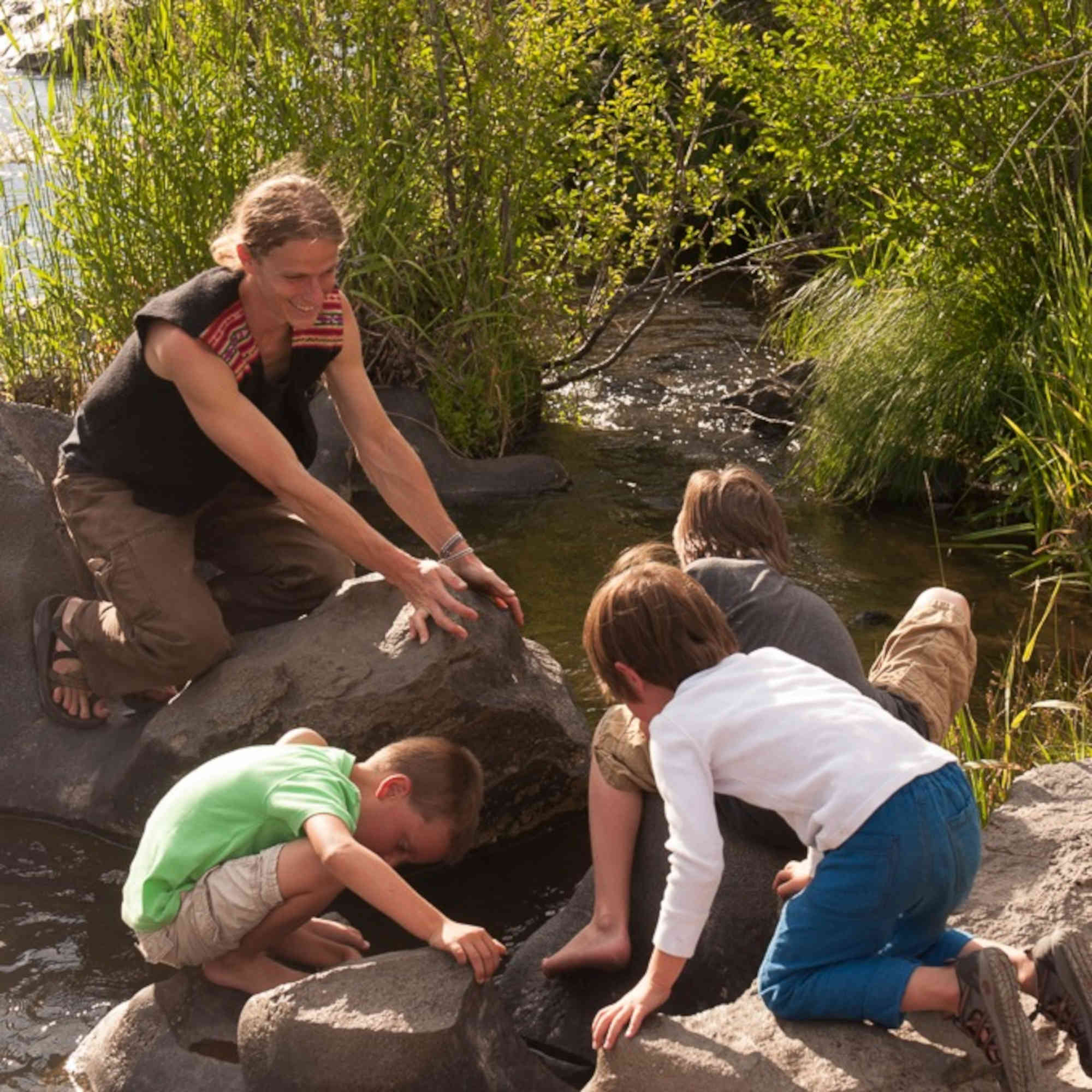 Ages 6 – 12    2023 – 2024
Skyliner Lodge and Powell Plains
9am – 3:30pm

Join us at nature school where learning and fun are one! We invite you to join us for one of our exciting themes! The dates below correspond to school days off as shown on the Bend/Lapine School District schedule.
Wednesday, October 25th, 2023 "Dragon Riders"
Ages 6 – 12 Skyliner Lodge
Survival skills are essential to every rider, as unexpected events are the norm when it comes to dealing with dragons. Thus, we will spend our time fine tuning our skills of nature dependence, learning to find what we need in any situation. Of course, map skills are also high on the agenda of a Wildheart Rider, and we will develop our ability to use and create accurate maps. Our time in this study would not be complete without adventurous challenges that put our newly learned skills to the test. Be prepared to find hidden treasures and traverse diverse obstacles in the process. If your skills in earth technology will not help you, then your skills in magic must. A dragon rider often depends on the mind's eye to complete a journey, and we will help any aspiring riders to access this most magical of tools. If adventure is your middle name, then hop on a winged reptile and meet us at Wildheart Dragon Riders.
Students Will:
Receive a dragon with a particular power to ride
Create maps in order to accomplish fantastical missions
Learn to use a compass and read maps to search for hidden treasure
Practice survival skills
Cultivate mind's eye powers to aid them in their adventures
Thursday, October 26th, 2023 "Stone Age Sculptors"
Ages 7 – 12 Skyliner Lodge
Stone Age humans relied upon natural technologies to secure all of life's necessities. Their skills and tools were not only adequate for a thriving life, they were so effective that ancient peoples had ample time to create art, stories, and the cultures which came to define our species. In this class we will be calling upon the spirit of our Stone Age ancestors. Students will learn to look at the world with a 'primitive eye,' assessing what life-giving materials are available in their immediate surroundings. We will share stories and play games as ancient humans once did. As a capstone craft, everyone will have the chance to create a stone bead using only natural materials and Stone Age grit. This 'primitive bling' will be theirs to take home and show off to the modern world. If your ready to dive into the consciousness of a caveman (or woman), than join us for this wild outing!
Students Will:
Learn primitive stone carving methods
Practice friction fire
Twine wild grasses to make rope
Learn about edible and medicinal plants
Friday, October 27th, 2023 "Halloween Witches and Wizards"
Ages 6 – 12 Skyliner Lodge
Get ready to break out the cauldron and the spell book for our Halloween celebration! This potent time of year is celebrated in many different cultures around the world as the time when the walls between the realms are thinnest. The spirit world of our ancestors is close. The death-rebirth cycle is strongly felt. The bat, cat, spider, and owl are all symbols for this time of year. All the other birth-death-rebirth symbols such as skeletons and ghosts reflect this energy as well. On this magic-filled day we will be using local medicinal herbs, fire, photos of our ancestors, sweet treats, and pumpkins to create an eerily celebratory experience!
Students Will:
Learn about the history of Halloween
Do a cycle of the seasons fall cauldron ritual
Identify and collect local medicinal herbs
Play bat, cat, spider, skeleton, and ghost themed games
Friday, February 2nd, 2024 "Fire Dancers"
Ages 7 – 12 Powell Plains
 Fire is a powerful element that has captivated the attention and demanded the respect of humans since the beginning of our time on Earth. Our ancestors relied on fire for warmth, light, making tools, cooking, purifying water, and as a gathering place to share stories and magic with each other. Truthfully, without fire there would be no human race today. The foundation of this camp is to create and maintain fires safely, as well as explore the magic and wonder of what fire can bring to our experience in nature. Fire safety is our top priority. If a child is not demonstrating the ability to be safe around fire, she/he will not be permitted to participate in fire making. Additionally, all instructors are certified in First Aid by the American Heart Association. We will be examining what is available to make a fire. Primitive and modern techniques for creating a flame, including friction fire, will be demonstrated. Once our hearth has been ignited, we will gather around the warmth to tell stories, sip on warm drinks, and experience the ancient, wonderful magic of fire.
Students Will:
Learn the fundamentals of fire safety
Experience a live friction fire demonstration
Practice creating a tinder bundle from surrounding resources
Experience the magic of fire with songs and storytelling
Wednesday, April 10th, 2024 "Juniper Jedis"
Ages 6 – 12 Skyliner Lodge
Students will learn the art of silently stalking animals and people. In addition, they will practice listening closely to the Earth Force. Camouflage is essential for all Juniper Jedis and we will spend a good deal of our time practicing this skill of becoming invisible. Additionally, students will develop their ability to understand the language of the birds, giving them a 'bird's-eye-view' of their surroundings and informing them what their prey is up to, as well as any nearby predators. All of this and we'll still have time to play and enjoy ourselves as every Juniper Jedi knows how to have a good time! Learn how to sense the Forces of nature and become an extension of the forest.
Students Will:
Learn the art of silently stalking animals and people
Study bird language to tap into the invisible web of the Earth Force
Practice effective camouflage techniques
Create a camouflage kit to take home
Thursday, April 11th, 2024 "Hobbit & Faerie Finders"
Ages 6 – 12 Skyliner Lodge
During our day of Wildheart Hobbit & Faerie Finders, kids will search for perfect hobbit & faerie habitat, and create houses out of plants and natural materials for them to visit and enjoy. As participants unleash their creativity, they will learn the types of plants each magical creature prefers, based on the plant's medicinal, or lack thereof, value. We will also discover what animals are friends with our hobbits & faeries based on what habitat they share. One important aspect of making faerie houses is choosing where to build. For this, we will wind our way through the trees and around the riverside stones in search of locations that will be the most likely to attract magical creatures. Throughout the week, we will practice hearing the language of birds, which all fantasy creatures know, so that we can decipher the messages of the winged ones. Join us for song, play, art, creativity and fun!
Students Will:
Open their awareness to explore hidden faerie and hobbit habitats
Build hobbit and faerie houses
Activate houses with tones, potions, and chants
Sing faerie songs
Discover plant and animal friends of the magical forest creatures
Friday, April 12th, 2024 "Special Ops Survivors"
Ages 7 – 12 Skyliner Lodge
Wildheart Special Ops Survivors know that emergencies are unpredictable. They also know that certain skills and behaviors will greatly increase one's likelihood of surviving any disaster that arises. During our time together students will train in essential skills of survival, including shelter building, fire making, water purification, and emergency signaling. We will also cultivate the fundamental qualities of survivors, like a calm mind, an ability to make decisions, maintaining humor, and many more. Survivors will learn to navigate the world of unpredictability while playing team games, making new friends, and preparing themselves to face the challenges of nature. If you would like to be a part of the new generation of survivors, then our Special Ops Survivors team is the place to be.
Students Will:
Learn survival skills
Practice shelter building
Create fire from the surroundings
Problem solve in a group setting
Train in emergency signaling techniques
Learn techniques to stay calm in the midst of stress
Practice the art of decision making
Drop-Off and Pick-Up
Drop-off window is between 8:45am – 9am Pick-up window is between 3:15pm – 3:30pm
Tuition
$67/Day Early Bird Rate Through September 1st, 2022 $77/Day Regular Payment Plans are available through our registration system. Sibling and Multi-Session Discounts Apply!