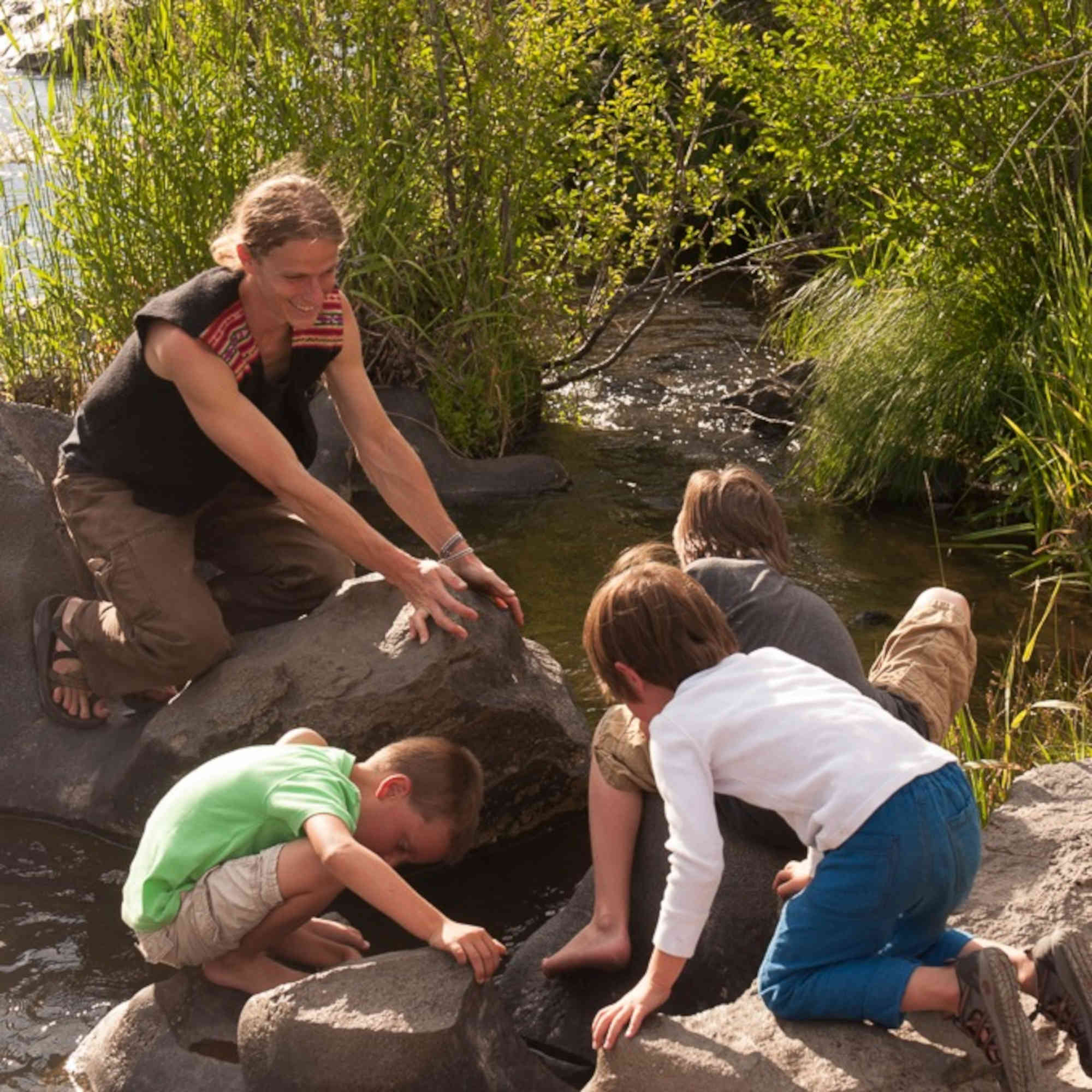 Ages 6 – 12    2022 – 2023
Skyliner Lodge and Juniper Jungle
9am – 3:30pm

Join us at nature school where learning and fun are one! We invite you to join us for one of our exciting themes! The dates below correspond to school days off as shown on the Bend/Lapine School District schedule.
Thursday, February 2nd, 2023 "Cold Weather Survival"
Ages 6 – 12 Skyliner Lodge
Wildheart Survivors know that emergencies are unpredictable. They also know that certain skills and behaviors will greatly increase one's likelihood of surviving any disaster that arises. During our time together students will train in essential skills of survival, including cold weather shelter building. We will also cultivate the fundamental qualities of survivors, like a calm mind, an ability to make decisions, maintaining humor, and many more. Special Ops Survivors will learn to navigate the world of unpredictability while playing team games, making new friends, and preparing themselves to face the challenges of nature. If you would like to be a part of the new generation of survivors, then our Special Ops team is the place to be.
Students Will:
Learn survival skills
Practice shelter building
Problem solve in a group setting
Learn techniques to stay calm in the midst of stress
Practice the art of decision making
Friday, February 3rd, 2023 "Unicorn Whisperers"
Ages 6 – 12 Skyliner Lodge
Many elements of nature exist beyond the perception of our 5 human senses. Invisible worlds of life and energy weave through every aspect of the universe. Unicorn Whisperers seek to know these invisible realities by tracking the signs of nature and using their minds-eye to see into the unknown. Unicorns represent the bridge between the seen and unseen. In this exciting and magical camp we will discover the invisible stories of nature by learning about tracking, observing animal behaviors, playing many games, and exploring our mind's eye.
Students Will:
Learn the art of tracking wild animals
Play Mind's Eye games
Ride imaginary unicorns
Learn to identify local edible and medicinal plants
Wednesday, April 12th, 2023 "Mythic Merpeople"
Ages 6 – 10 Skyliner Lodge
Wildheart Mythic Merpeople know that water is the source of all life. They also know that water creatures need a healthy riparian zone in order to survive. During our time together, students will immerse themselves in the mythic watery realms as they study riparian plants, animals, and the river itself. We will share stories of mythic mermaids and mermen from Europe, Africa, Asia, and beyond. Mermaids and mermen have a reputation for their breathtaking voices. We will activate our voices in the form of toning and songs. If you love to play in the watery domain with the willow, crawdads, and otter then Mythic Mermaids and Mermen is the place to be!
Students Will:
Explore riparian plants, animals, and critters
Build riparian houses for fantasy creatures
Hear mermaid and mermen legends from all over the world
Sing mermaid and mermen songs
Thursday, April 13th, 2023 "Hobbit and Faerie Finders"
Ages 6 – 10 Skyliner Lodge
During our day of Wildheart Hobbit & Faerie Finders, kids search for perfect hobbit & faerie habitat, and create houses out of plants and natural materials for them to visit and enjoy. As participants unleash their creativity, they will learn the types of plants each magical creature prefers, based on the plant's medicinal, or lack thereof, value. We will also discover what animals are friends with our hobbits & faeries based on what habitat they share. One important aspect of making faerie houses is choosing where to build. For this, we will wind our way through the trees and around the riverside stones in search of locations that will be the most likely to attract magical creatures. Throughout the day, we will practice hearing the language of birds, which all fantasy creatures know, so that we can decipher the messages of the winged ones. Join us for song, play, art, creativity and fun!
Students Will:
Open their awareness to explore hidden faerie and hobbit habitats
Build hobbit and faerie houses
Activate houses with tones, potions, and chants
Sing faerie songs
Discover plant and animal friends of the magical forest creatures
Friday, April 14th, 2023 "Witches and Wizards"
Ages 6 – 12 Skyliner Lodge
During the cold season, our Witches and Wizards students will learn to face the darkness with courage and light. There may not be much warmth available in the air, so we will see what it means to channel our inner strength, intuition and magic. Topics will include the breath of fire, divination, wand making and transfiguration (into local animals). While the earth and many of it's inhabitants sleep through the long winter darkness, Wildheart Witches and Wizards will be gathering to share power, stories and laughter. Any items created in previous Wizardry courses (wands, staffs, etc.) are welcome and encouraged! Don't miss this wonderful journey into the heart of the cold seasons magic!
Students Will:
Participate in care and study of magical creatures activities
Develop intuitive powers
Learn the art of transfiguration into local and mythic animals
Add new levels of power to their wands or staffs
Drop-Off and Pick-Up
Drop-off window is between 8:45am – 9am Pick-up window is between 3:15pm – 3:30pm
Tuition
$67/Day Early Bird Rate Through September 1st, 2022 $77/Day Regular Payment Plans are available through our registration system. Sibling and Multi-Session Discounts Apply!