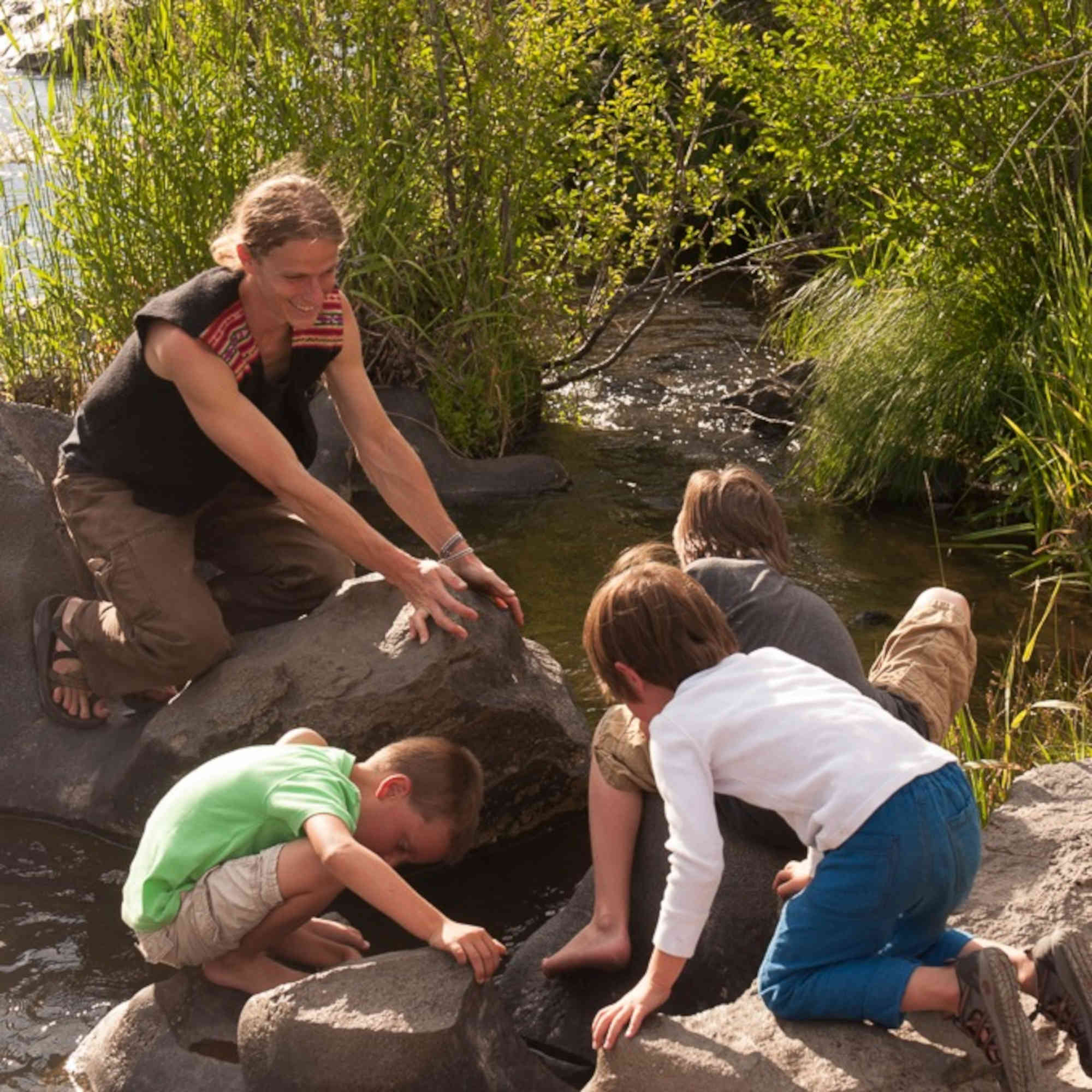 Ages 6 – 12    April 2022    Tumalo State Park
9am – 3:30pm

Join us at nature school where learning and fun are one! We invite you to join us for one of our exciting themes! The dates below correspond to school days off as shown on the Bend/Lapine School District schedule.
Public Health Advisory and Cancellation Policies During Uncertain Times
We closely tracking the current updates and advisories. You can read about our Communicable Disease Management Plan here.
We have adjusted our cancellation policies during these uncertain times and strongly recommend you review them thoroughly so you can know what to expect in the event you need to cancel or we go back into a lock down scenario. You can view our updated policies here.
Wednesday, April 13th, 2022 "Hobbit and Faerie Finders"
Spaces Available!
Ages 6 – 10 Tumalo State Park
During our day of Wildheart Hobbit & Faerie Finders, kids search for perfect hobbit & faerie habitat, and create houses out of plants and natural materials for them to visit and enjoy. As participants unleash their creativity, they will learn the types of plants each magical creature prefers, based on the plant's medicinal, or lack thereof, value. We will also discover what animals are friends with our hobbits & faeries based on what habitat they share. One important aspect of making faerie houses is choosing where to build. For this, we will wind our way through the trees and around the riverside stones in search of locations that will be the most likely to attract magical creatures. Throughout the day, we will practice hearing the language of birds, which all fantasy creatures know, so that we can decipher the messages of the winged ones. Join us for song, play, art, creativity and fun!
Students Will:
Open their awareness to explore hidden faerie and hobbit habitats
Build hobbit and faerie houses
Activate houses with tones, potions, and chants
Sing faerie songs
Discover plant and animal friends of the magical forest creatures
Thursday, April 14th, 2022 "Juniper Jedis"
Spaces Available!
Ages 7 – 12 Tumalo State Park
Students will learn the art of silently stalking animals and people. In addition, they will practice listening closely to the Earth Force. Camouflage is essential for all Juniper Jedis and we will spend a good deal of our time practicing this skill of becoming invisible. Each participant will learn how to make their own 'camouflage kit,' which will enable them to quickly blend in to their surroundings, no matter what the situation. Additionally, students will develop their ability to understand the language of the birds, giving them a 'bird's-eye-view' of their surroundings and informing them what their prey is up to, as well as any nearby predators. All of this and we'll still have time to play and enjoy ourselves as every Juniper Jedi knows how to have a good time! Learn how to sense the Forces of nature and become an extension of the forest.
Students Will:
Learn the art of silently stalking animals and people
Study bird language to tap into the invisible web of the Earth Force
Practice effective camouflage techniques
Friday, April 15th, 2022 "Dragon Riders"
Spaces Available!
Ages 6 – 10 Tumalo State Park
Wildheart Dragon Riders are seasoned adventurers who crave accomplishing the impossible. Survival skills are essential to every rider, as unexpected events are the norm when it comes to dealing with dragons. Thus, we will spend our time fine tuning our skills of nature dependence, learning to find what we need in any situation. Of course, map skills are also high on the agenda of a Wildheart Rider, and we will develop our ability to use and create accurate maps. Our time in this study would not be complete without adventurous challenges that put our newly learned skills to the test. Be prepared to find hidden treasures and traverse diverse obstacles in the process. If your skills in earth technology will not help you, then your skills in magic must. A dragon rider often depends on the mind's eye to complete a journey, and we will help any aspiring riders to access this most magical of tools. If adventure is your middle name, then hop on a winged reptile and meet us at Wildheart Dragon Riders.
Students Will:
Receive a dragon with a particular power to ride
Create maps in order to accomplish fantastical missions
Learn to use a compass and read maps to search for hidden treasure
Practice survival skills
Cultivate mind's eye powers to aid them in their adventures
Drop-Off and Pick-Up
Drop-off window is between 8:45am – 9am Pick-up window is between 3:15pm – 3:30pm
Tuition
$67/Day Early Bird Rate Through October 10th, 2021 at 11:59pm $77/Day Regular Payment Plans are available through our registration system. Sibling and Multi-Session Discounts Apply!