Rainbow Dreamer
Founder and Instructor
Rainbow Dreamer is a visionary healer, artist, teacher, and new father. He founded Wildheart Nature School in 2011, where he nurtures and enlightens young minds with care and joy. Alongside his teaching role, Dreamer has delved into the art of brain tanning and other ancestral skills. While his expertise lies in deer skin, he has worked with a variety of animals such as elk, beaver, raccoon, squirrel, otter, fish, snake, buffalo, and bear. Beyond tanning and crafting sacred items, Dreamer immerses himself in the woods, studying animal tracking and honing his connection with nature. Recently, he has discovered a passion for ultra-marathons and paddleboarding. Dreamer holds a Bachelor of Arts Degree from Prescott College, specializing in Medical Anthropology and Environmental Studies. His natural aptitude for working with young people instills in them an appreciation for the natural world, fostering excitement and curiosity. Certified by the IAKP for Kambo Ceremonies and by the American Heart Association in Heartsaver First Aid CPR AED, Dreamer ensures a safe and professional environment.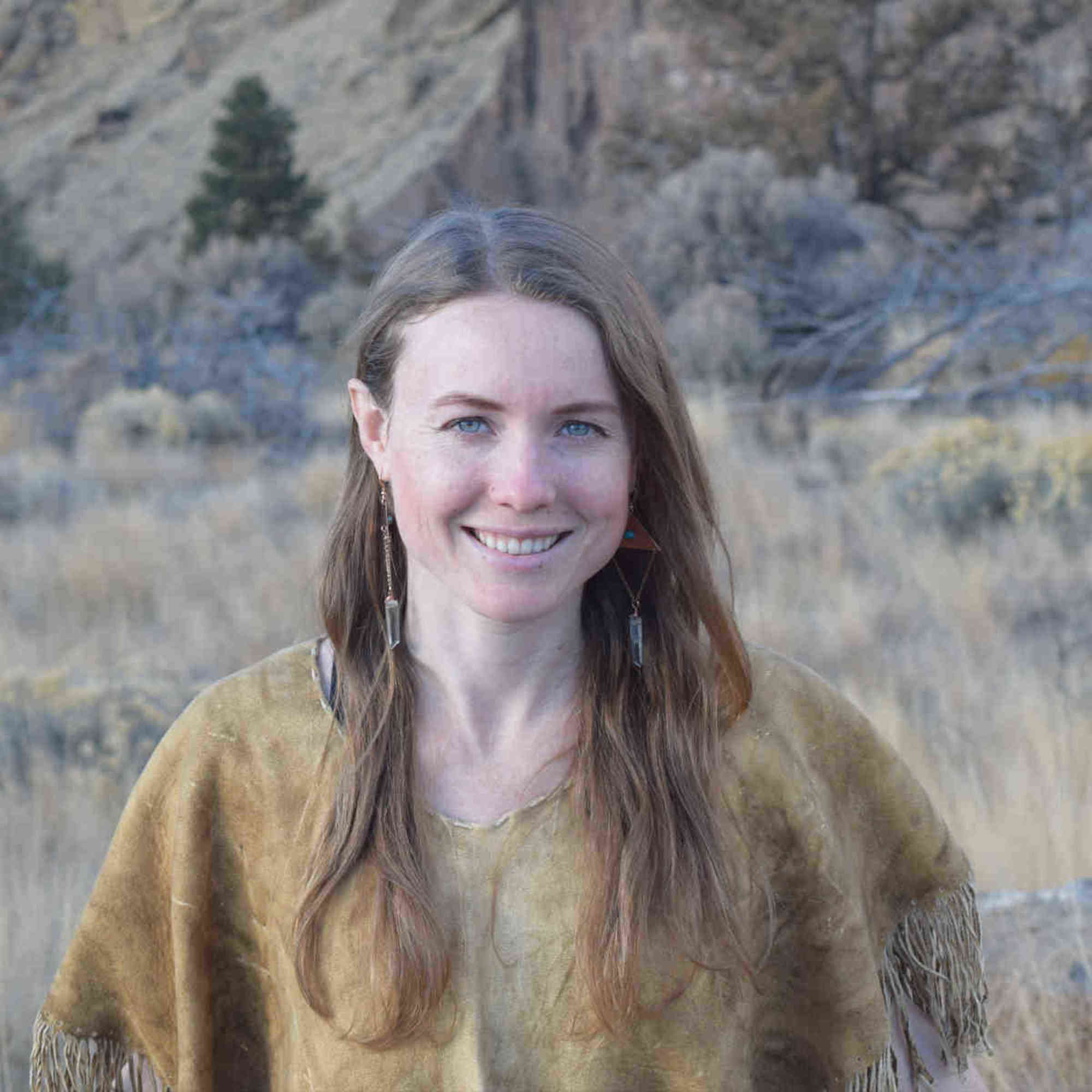 Amara Dreamer
Founder, Program Director, and Instructor
As a lover of nature, Amara Dreamer teaches connection and respect for the natural world in all of her pursuits. She founded Wildheart Nature School in 2011. Amara's nature experience includes farming edible and medicinal plants, facilitating classes to preserve indigenous and natural life ways, working for a wilderness protection non-profit, backpacking, undergoing nature-based rite of passage initiations, and spending a lot of time simply being in outdoors. A student of wisdom traditions from North and South America, Amara holds a Bachelor's degree from Arizona's Prescott College, with a competence in Cultural Anthropology and a breadth in Environmental Studies. In alignment with the college's mission to promote social justice and environmental sustainability, Amara focuses much of her time on social and environmental education for children and adults in her community. She believes in bringing young people as well as adults the opportunity to develop an intimate understanding of nature that will help them live in harmony with the earth. Amara is certified in Heartsaver First Aid CPR AED by the American Heart Association.
Tess Vining
Early Childhood Waldorf Teacher and Kindergarten Director

Inspired by the holistic approach to education in Waldorf pedagogy, Miss Tess completed a two-year intensive teacher training at Waldorf Teacher Education in Eugene, Oregon, and began working as an Aftercare Teacher at Corvallis Waldorf School, before becoming Director of Early Childhood at CWS. The incredible community of the Waldorf School of Bend brought Miss Tess to Bend in 2016, where she assisted in early childhood and grades classes before leading the Huckleberry Preschool.  During summers, her son attended Wildheart Nature School camps and learned environmental stewardship and the virtues of being a reliable, resilient and loving friend in a greater community.  Integrating the values of Wildheart nature education and Waldorf, the Wildheart KinderCamp was formed to serve Kindergarten-aged children. When not teaching on the farm, Miss Tess is playing in the PNW mountains with her family and friends. Miss Tess is certified in Heartsaver First Aid CPR AED by the American Heart Association.
Margaret Persaud

Early Childhood Teacher
A New York native, Margaret has worked closely with children and parents for over a decade in the classroom, at home and in summer camps. She began her undergraduate studies majoring in Early Childhood Education. Becoming discouraged with the current model of education, she left school in search of a more holistic approach. While living in Sedona, Arizona, she discovered Maria Montessori and Rudolph Steiner's alternative pedagogies of instruction. It was then that she started to structure her philosophy of education around the physical, academic, social-emotional, and spiritual needs of the child. She believes that an integration of these practices will nurture children to be uniquely themselves while creating a strong sense of social responsibility and accountability for caring for our planet.
Margaret received her Bachelor's degree in Sociology with a minor in Early Childhood Education from Long Island University. She studied at the West Side Montessori School receiving her American Montessori Society certification for children ages three to six. It was there that she became involved as a Diversity Council representative, a SEED (Seeking Equity in Education and Diversity) member and Peace advocate. Margaret has worked with schools to provide Social-Emotional Learning workshops focusing on non-violent communication, kindness curriculum, and mind-body-wellness practices for educators and children alike. She believes that the transformation of self is the key to transforming our relationships and our community. The collective well-being can only be addressed as deeply and authentically as we show up to meet ourselves.
Margaret and her daughter Grace enjoy cooking, yoga, dance, art, meditation, camping and soaking in hot springs. Margaret is certified in Heartsaver First Aid CPR AED by the American Heart Association.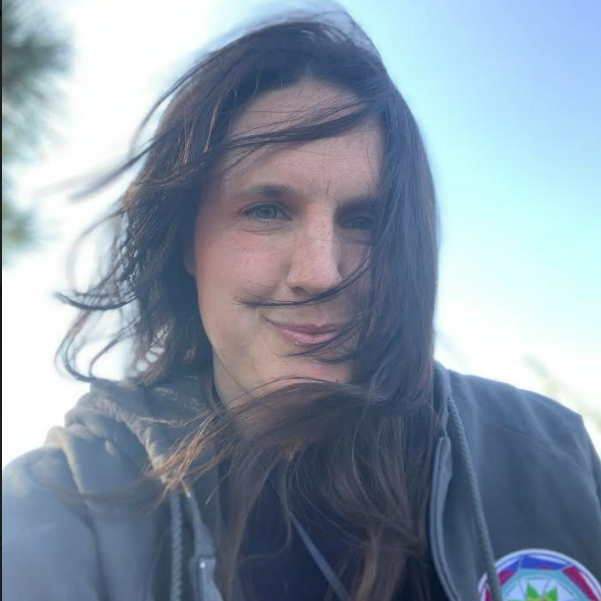 Laura Parker
Instructor 
Laura Marie Parker was born in Bend, Oregon, where she spent much of her early childhood years climbing the crab apple tree, cross-country skiing and hunting for crayfish in the river across the street from her house. From a young age she helped her dad clean wild poultry after his hunts, which nurtured an important appreciation for the giveaway of the animals. 
Laura Marie Parker is a published Author, intuitive healer, Community Created Herbalist (CCH), tarot reader, Wildheart Nature School Instructor, Green Witch, mother to three boys, and a part of Team Soulmate (with her partner Jacob Joseph Norris). Laura published her first novel, "The Year I Lived Dangerously: A Traveling Memoir" in 2018; which is an exploration of finding Autonomy and her Soul's purpose, after growing up trying to protect others from facing their own shadows. 
After birthing three boys and spending many years studying the art of healing with intuition, tarot and herbs, she furthered her studies in 2015 when she began her correspondence course with Susun Weed, her mentor in Herbalism. She practices the Wise Woman Tradition and has many mentors, including Susun S. Weed and Lynn V. Andrews.   Laura offers shamanic herbal consultations,  ceremony for life transitions, herbal classes and workshops, tarot Readings and family Herbalism. Laura lives in Bend, Oregon with her sweetheart their three boys.
She is certified in First Aid/CPR.
Horyu Scott Clouser

Instructor and Adminstrator
Born and raised in southeast Idaho, Horyu from a young age loved magic, fantasy, going camping, climbing trees, curiously observing insects, and the sense of immense wonder that occurs when in wild places. He is a certified Sound Healer and Reiki Master, and is currently studying Permaculture Design with the intention of bringing about greater awareness to living in harmony with our planet through regenerative practices and principles. He enjoys hiking, gardening/farming, playing music, kayaking, paddle-boarding, working on bushcraft/primitive skills, and dancing. He is fascinated with that which is mythical, magical, sacred, and it brings him joy to nurture and share that relationship with all who are open to tapping into the beauty of life that is ever present. Nature is a living library, and when we are humble enough to realize this, the doors to a wonder of knowledge and wisdom become available. He truly feels that the next generations are our future, and we must do all we can to give them the tools to thrive and have meaningful connections with all life.
He is certified in Heartsaver First Aid CPR AED by the American Heart Association.
Nicole Blume
Instructor
As the daughter of a retired National Park Ranger, Nicole grew up with a deep love and respect for nature that has inspired the course of her life's path. Although born in Los Angeles, her parents took every opportunity to get outdoors on hikes, kayaks, canoes, snorkeling adventures, camping trips, and remote travel locales, from trekking across Alaskan glaciers to hiking in tropical Fijian forests to swimming with sea turtles in Hawaii. Blessed to have access to nature as a child, Nicole is passionate about sharing her love of nature with children from all walks of life. 
Nicole also grew up on a backyard sanctuary for abandoned, abused, and endangered tortoises, where she cared for a wide variety of rare and exotic species. From her beloved tortoises she gained a deep wisdom about slow time and the seasonal  rhythms of animals. A longtime Girl Scout who earned her Gold Award and led countless camps for kids, Nicole also learned invaluable nature-based and leadership skills while immersed in a community of caring and empowered women and girls.
As a lifelong lover of young adult fantasy literature, Nicole has read thousands of fantasy books, written numerous stories, and created fantasy-themed art projects in a variety of mediums, from drawing and painting to wood, metal, leather, and stone. Her love of fantasy books led her to major in English Literature at UC Berkeley with a concentration in Children's Literature. After graduating, she quickly became disillusioned with the corporate world, and returned to school to become a teacher.
In addition to earning her preliminary multiple subjects teaching credential, Nicole graduated from both the Waldorf Institute of Southern California and the Waldorf Practical Arts Training program. As a dual-certified Waldorf teacher, she has worked as a mixed-age kindergarten summer camp teacher, teaching assistant, woodworking and practical arts teacher, and class teacher for a variety of ages and grade levels. She enjoys beeswax candle dipping, reed and pine needle basket weaving, eco-dye printing, traditional woodworking, and a variety of other natural crafts. 
Nicole felt happiest and the most at peace as a child when she was meandering the woods and forests, crafting simple playthings out of twigs and leaves, and dreaming of the day she would leave the big city for a countryside life–which she found here in Bend, Oregon with her life partner and two children. 
She is certified First Aid CPR AED by the American Red Cross
Joe Abel
Instructor
Joe grew up living in Southern California in sunny San Diego. Joe was fortunate to live so close to the beach and exposed to San Diego's rich biological diversity, both on land and in the waters off the coastline at an early age. Throughout his childhood, he would attend the Junior Rangers program bordering San Ysidro and Tijunna learning about the ecology of estuaries and the importance of wetlands to the ecosystem in Southern/ Baja California. This ultimately ignited a lifelong meaningful appreciation of nature and inspired him to act as a steward in his community. During his summers in his childhood every year he would also visit his grandparents in upstate New York near Rochester and be immersed in the tranquil beauty of its rural surroundings, including trips to the local fish hatchery and the Audobon Bird Sanctuary near his grandparents home. These experiences would help stimulate his deep love of being outside in nature throughout his life.
Early on in life being around his younger neighbors he found himself to be a mentor to them and found his calling of working with youth. Joe graduated from San Jose State with a Bachelor's Degree in Child & Adolescent Development with a focus on working in community programs. He has worked with children/adolescents for about a decade in various educational/recreational settings ranging from children museums, after school programs, summer camps, and city recreation programs for youth. Growing tired of the typical education model system, Joe decided to leave/move from California to Oregon in search of an educational program for youth that aligned more in tune with his own beliefs/core values which led him to be an instructor here at Wildheart Nature School! In his free time, Joe likes to hike/explore the central Oregon region with his dog, ride his bike, skateboard, go long distance running, paddle boarding and creating various art projects/crafts.
He is certified in Heartsaver First Aid CPR AED by the American Heart Association.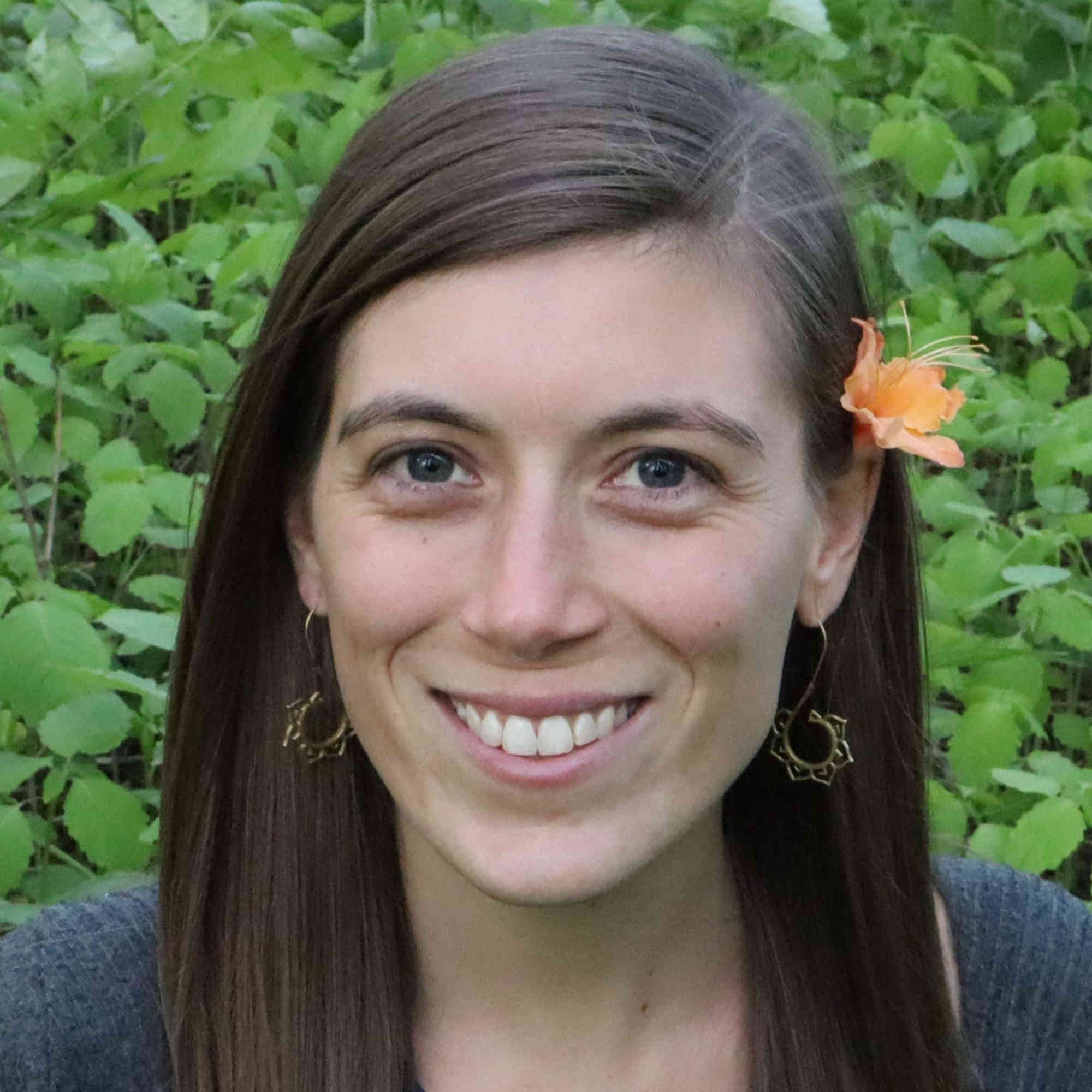 Katerina Brown
Instructor and Administrator
Katerina Brown
As an international traveler with deep roots in the Appalachian mountains, Katerina has a strong connection with the natural world. She desires for all people to have access to nature education and strives to help others appreciate and respect our Earth.
Her kind, compassionate personality and innate ability to teach and work with children was sparked in her youth when she helped raise her younger sister. From there, she taught at summer camps, Girl Scouts, art and music classes, mentored, and tutored one-on-one. Realizing how to offer these gifts in college (University of North Carolina at Wilmington), she studied Social Work and focused on supporting and empowering children and families, specifically those at-risk, low income, and disabled. She ran non-profit programs such as the Strengthening Families and the Grandparent Support Network. Katerina believes everyone deserves a safe outlet for full self-expression.
She is also an Earth Path Education (Asheville, NC) instructor, with a dedication of inspiring and connecting as many children, despite age or demographic, to the magic of our surrounding plants, animals, and elements. As a dancer and a certified yoga teacher for children and adults, she truly believes in the power of body movement.
Today, she brings her love of nature into her pottery work and her birth work. She is a certified labor (Hypnobabies) and postpartum doula, lactation counselor, and placenta specialist who has also studied with herbalists in women's health. Having grown her own foods and medicines, she believes in the healing power of plants and is an advocate for living with the land. Her dedication to sacred songs and sweat lodge ceremonies has allowed her to dive deep into her spirituality and truly understand the importance of preserving tradition and the earth itself.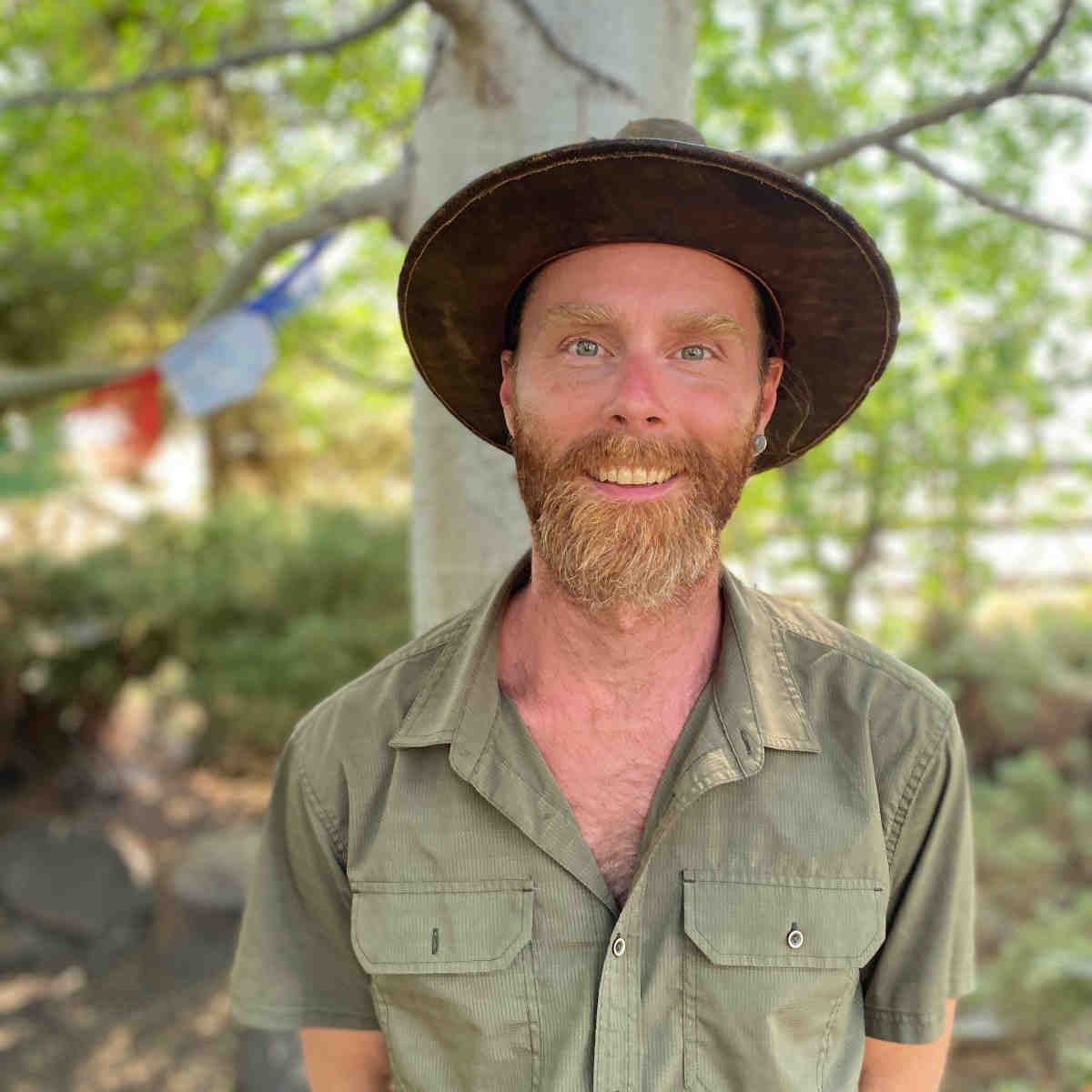 Clay Savely
Instructor 
Clay was fortunate to grow up in the dense Appalachian Mountains of North Carolina on a magical property with flowing creeks, springs, lush, diverse rain-enhanced forests, and abundant animal life. He spent most of his time outdoors as his parents encouraged a deep connection with the spirit of the land. Clay developed a deep connection with the forest and the unseen forces alive within the micro and macro worlds of wonder at an early age. Through growing food with his family, he became intimately connected with the cycles of the seasons.
As he grew older, Clay learned more about himself and the world through traveling, music, art, and community. Eventually going to college at the University of North Carolina at Wilmington on the Atlantic Ocean, he discovered a deep connection with fire and water through the presence of the ocean and the wonders of creating fire out in the forests at night. He studied Environmental Science, Film, and Creative Writing with some time abroad in Australia as well with an abundance of diving on the Great Barrier Reef. Clay eventually realized that instead of being a scientist and studying nature, he wanted to work with children and open their minds and hearts up to the vast wonders and spiritual connection that he had experienced first-hand as a child and young adult. He was called back to the mountains after school and began teaching for experiential education groups outside of Asheville. He fell in love with guiding trips in Pisgah National Forest, a temperate rainforest with remnants of the magic first encountered and revered by the Cherokee peoples.
Clay is passionate about teaching primitive skills, survival skills, plant knowledge, environmental science, writing, nature art, and ceramics among many other things. He particularly enjoys sharing his father's unique art form of impressing plants and flowers into clay and creating complex designs inspired by nature's majestic creations. He is certified in Heartsaver First Aid CPR AED by the American Heart Association.
Jake Norris
Instructor 
Jake Norris was born in Bend, Oregon and grew up traveling and living along the coast of Oregon and Northern Idaho.  His homeschool in 5th grade was a Peterson's field guide of Birds of the Northwest and 10 acres of wildwood that he explored from morning until dusk. He still remembers the feeling of the earth beneath his feet when he would take off running barefoot through his ten acres to discover nature's mysteries as a kid.
Jake connects deeply with the beings of nature and seeks to help preserve as much of the Wild as he can around Central Oregon.  He is a father of three boys, an oil painter, a birder, an herbalist, a proficient sourdough bread baker, a magician in the kitchen, and an overall big hearted person. 
Jake apprenticed in plein air oil painting with his mentor Ken Roth at the age of 19, and has pursued a profession as an Oil Painter ever since.  While he built his career as a painter he also studied Sourdough bread baking and helped start the Jackson's Corner bread bakery.  
He was a part of Mudlake studios for four years and is now working on building his own studio.  Jake is known for his bird paintings and colorful landscapes of Central Oregon. 
He is currently a full time artist and an instructor at Wild Heart Nature School in Bend, Oregon where he lives with his sweetheart and their sons.
Jake is certified in Heartsaver First Aid CPR AED by the American Red Cross.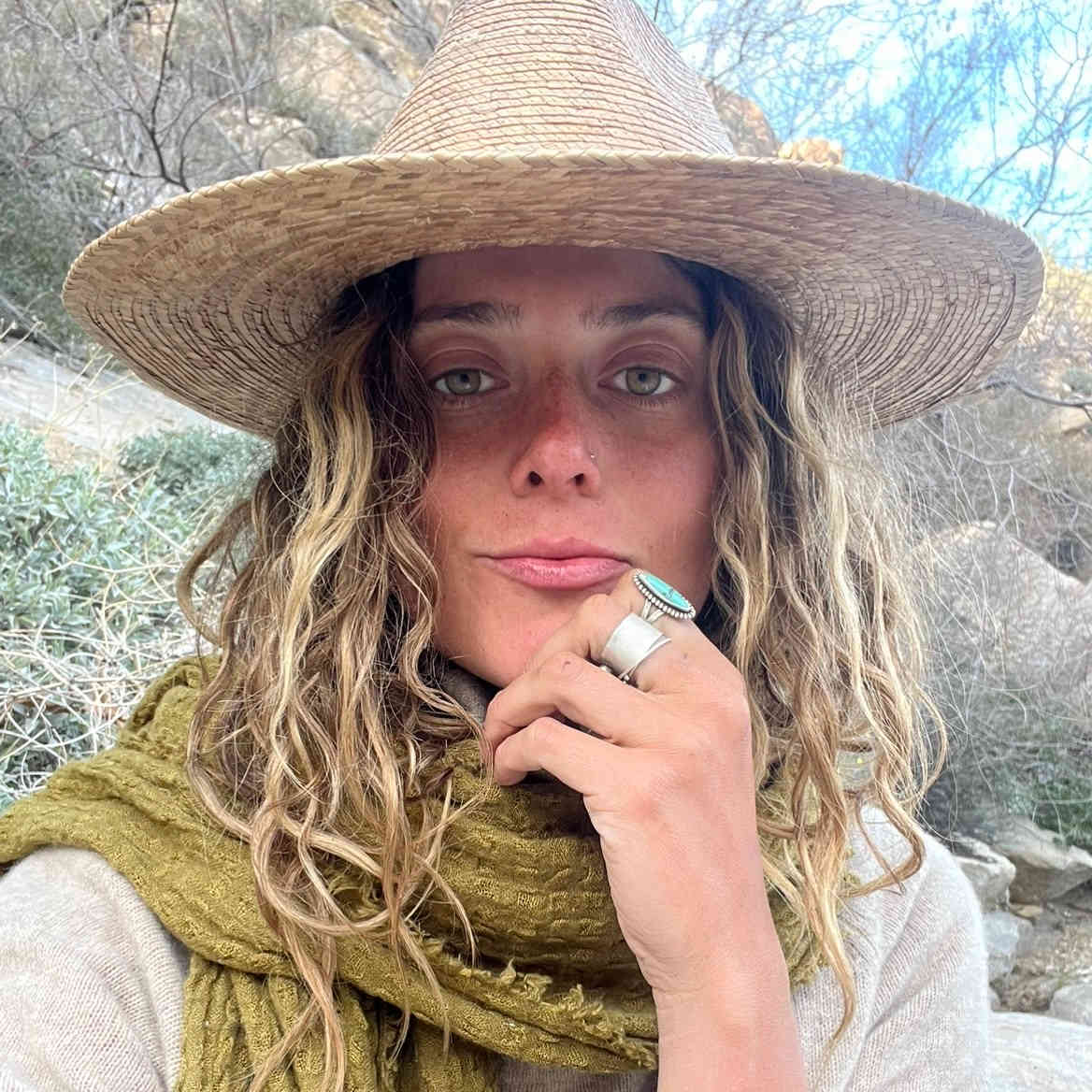 Tess Baldino
Instructor 
Tess remembers her first language not through talk but through the body and intuition. She was raised in Connecticut, around the woods and alongside the streams. Tess has been fortunate enough to call many different places her home. She has found herself traveling over the years as she follows her deeper longings.
Tess has a Social Work degree and most recently has been a part of Wilderness Therapy work. Tess is skilled in crisis intervention, trauma and addiction-based treatment. Nature and mindfulness have been a key part to her teachings and parallel healing journey. Tess believes in (and uses) somatic based practices alongside creative thinking, playing, and wonder. She moves through the world as a student, ever seeking from all.
Tess is devoted to cultivating relationships with all the beings of this land- unknown and known, seen and unseen. She is inspired by color and movement and finds herself attuned to the seasons.
Lots of her time is spent creating beautiful meals/baked goods, farming/gardening, reading/writing, and, using her hands to craft with clay, wood, and beads. Tess also makes sure she has time to hike, camp, fish, learn new primitive skills, dance, and practice yoga.
Tess will continue to live in apprenticeship with this world and herself.
*Certified in CPR/First Aid, WFR, Aegis; crisis de-escalation. 
William (Scott) Holman
 Instructor
Meet Scott, a passionate educator at Wildheart. Hailing from an international background in Europe, Scott's lifelong love for nature has guided his journey as an outdoor enthusiast and environmental steward.
After completing his education, Scott ventured to the sunny shores of Florida, where he found his calling leading youth educational kayak tours amidst the enchanting cypress trees. It was here that he ignited the spark of curiosity and awe in young minds, fostering their appreciation for the natural world.
Driven by his passion, Scott then joined the Oregon Forestry Service, assuming the role of a devoted land steward in the breathtaking Sky Lakes Wilderness. He dedicated himself to the preservation and conservation of this pristine landscape, ensuring future generations could cherish its wonders.
Having experienced the beauty of the forest. Scott ventured to the Bay Area, where he combined his love for nature and artistic flair. He inspired students to embrace their creativity, teaching them the art of crafting sand globe sculptures on the sandy shores. His unique approach brought together the worlds of art and nature, leaving a lasting impact on the young hearts and minds he encountered.
Building upon his expertise, Scott established a successful landscape and design company in the Bay Area, merging his artistic talents with his unwavering dedication to environmental sustainability.
Now residing in Bend, Scott has found his true purpose in connecting children with the wonders of nature. His extensive experience, coupled with his infectious enthusiasm, enables him to guide young adventurers on awe-inspiring journeys of exploration, fostering a deep sense of connection and reverence for the natural world. With Scott as their mentor, children at Wildheart are certain to embark on transformative experiences, unlocking their inner curiosity, and discovering the boundless beauty that lies within the wilderness.
Scott is certified in Heartsaver First Aid CPR AED by the American Heart Association.
Amy Amari
Instructor 
Amari is a California native & made her big move to Oregon in the fall of 2015. Before the move, she graduated with a degree in Natural Resources: Parks & Recreation Management. She worked as a naturalist for the Environmental Discovery Center where she taught various environmental topics to children aged K-6th grade. Prior to that, she worked as a camp counselor for 8 summers at a 4H inspired summer camp. Since moving to Oregon, she worked for the Forest Service for 5 years as a park ranger; leading nature walks, giving tours & teaching visitors about central Oregon. She also enjoys giving private hikes to the public where she teaches them about the local flora/fauna, does guided mediations & encourages forest dancing. 
Amari loves anything outdoors & when she's not teaching, she's hiking, dancing, traveling, cooking, playing her ukulele, writing, spending time with her kitty, diving into a spiritual routine or being a fairy. She's a lover of life & all things wild!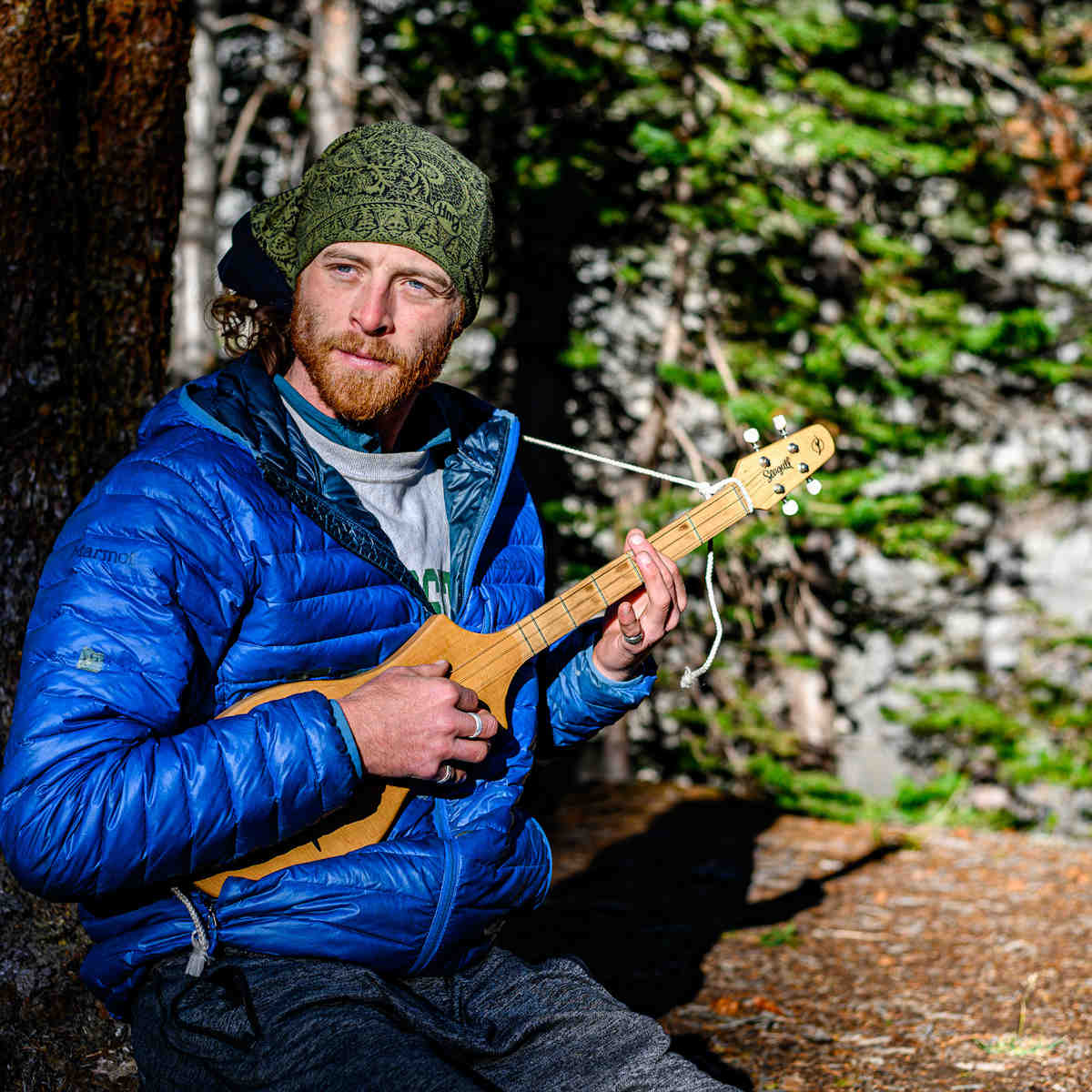 Patrick Fitzpatrick

Instructor 
Fitz, also known as Patrick, grew up in Northern California. He was raised in a loving home that found solace and spiritual connection through camping and the ocean. He has a deep appreciation for music, mountain trekking, communal gatherings, breathwork, and ecstatic movement. At UC Santa Barbara, he pursued environmental studies as his major and spatial studies as his minor, which fueled his passion for the natural world.
Fitz has extensive experience leading summer camps and teaching English to students of various ages in Spain. These experiences have shaped him into a dynamic instructor who values growth and play in equal measure.
Fitz is a firm believer in immersing children in the natural world, as he believes that the most profound lessons we learn in life come from our connection with nature. He upholds heart-centered awareness and embodies kindness and compassion as core virtues of living. While mentoring his students, he encourages their curiosity and intuition. You can find Fitz leading his students through music, whether he's drumming, strumming the guitar, or singing. Whether it's deep in the mountains or high in the desert, he's committed to building a bridge of spiritual remembrance through music and the great outdoors.
Elizabeth Stauder
Instructor 
Elizabeth is a first-generation Central Oregon local blessed with many memories of hiking, camping, and exploring in the abundant nature here. She has also been privileged to encounter a wide variety of natural landscapes and a diversity of cultures through her travels during her 20's.
Elizabeth has over a decade of experience in teaching, mentoring, and serving communities both locally and abroad, working with both adults and children of various ages, including in Spanish. With a degree in Sociology, and minors in English, Spanish and Gender Studies, she has a fascination for studying and shepherding the harmonization of systems, as well as a love of story-telling, cross-cultural learning, and inviting society to greater degrees of inclusivity.
As a lover of both wild nature and human nature, Elizabeth has also studied the mind-body connection and its role in health and healing in various forms over the past decade. She is currently completing a three-year long, international professional training program that is part of the leading-edge of Trauma-Safe therapy, called Organic Intelligence®. Elizabeth has an active coaching practice, Entering The Stream LLC, and supports clients to heal trauma patterns through nervous system regulation and synchronization, during the days when she is not in the nature classroom. Her study and understanding of healthy attunement, and biological rhythms of healing, growth, and wellness has informed her mentoring at a foundational level. She has brought these tools into the classroom, creating a naturally therapeutic environment, and has coached and trained other teachers in these skills.
Elizabeth began working for Wildheart Nature School in 2016, where she found the forest to be the ideal classroom for supporting and enhancing children's natural inclination to learn and grow, through synchronization with the earth's natural rhythms and living relationships. She then became a Forest Kindergarten teacher for the Bend Forest School in 2019, and spent two and a half years developing more longevity and consistency of relationship with her students & co-teachers there, as well as confident leadership in a year-round, all-outdoors classroom. She is looking forward to co-creating an inclusive space of curiosity, reciprocity, enjoyment and meaningful community with the Wildheart Kindergarten beginning this Fall 2021.
While not teaching children in the forest or seeing coaching clients, Elizabeth can be found enjoying nature hikes, gardening, cooking organic local food, catching up with friends, spending time in spiritual community, reading and writing, studying and practicing sustainable living, and relaxing with her sweetie and their adorable cat-baby.
Elizabeth is certified in Heartsaver First Aid CPR AED by the American Heart Association.
The Children's Forest of Central Oregon provides a network of outdoor places and programs dedicated to moving all children along a continuum of learning, exploration, and healthy living through engagement with nature.
They seek to:
Develop opportunities for all children and youth to safely and accessibly engage in free play, exploration and recreation activities that connect them to nature
Provide all children and youth first hand connections with nature by providing meaningful, inspirational, and interdisciplinary education programs including STEM (Science, Technology, Engineering and Math), social studies, creative writing, and art
Improve health outcomes in youth by providing opportunities that lead to increased physical activity outdoors
Develop programs that foster leadership skills in youth, promote a sense of connection and stewardship for public lands, and provide potential environmental and natural resource career paths.